Guys,
An interesting chain of events has lead me to announce here about an upcoming movie about male grooming called " Mansome " directed and produced by Morgan Spurlock ( Supersize me Movie )
I met with Morgan Spurlock one night in London several months ago for a few beers and we hit it off famously. We met through a mutual friend who had informed Morgan about my involvement with the hair loss and HT community along with my own journey and my role and double life in the industry as " Spex".
Morgan was keen to meet up a couple of times and find out more about this hidden epidemic of hair loss and the industry generally for his upcoming movie, Mansome. The movie is a documentary and involves several A list celebrities and their grooming habits along with a bunch of everyday guys and their own plights. Names involved that i know of and also had pleasure of meeting one of them are, Zach Galifianakis, Will Arnett, Paul Rudd, Jason Bateman, Morgan etc
Morgan was truly fascinated by HT's and mine in particular along with the lengths we hair loss suffers go to to stop, conceal and regrow our hair in order to regain our confidence, identity and self esteem and he found it pretty awesome that HT's could in fact look so natural after rummaging through mine on more than one occasion. I also hooked him up with a couple of other patients in London. He is known to the world as a harsh critic, yet he was genuinely blown away by the hair transplants disclosed to him.
Well only a few weeks ago Morgan called me up to discuss ' The Mansome Movie ' further as he wanted to try feature Hair transplants within it as he and his production team felt it appropriate for the movie alongside other relevant segments and suggested an entire piece could well be dedicated to HT's potentially if we were willing to help him.
Cut to now... I just returned back from a whistle stop mission to NYC - (i will not bore you with those details) where we filmed an entire day with his team up at Feller Medical and both Dr Feller and I were interviewed at great length for the segment.The day was great and a very long one in order to include everything. Along with interviews with us and with patients, Dr Feller was filmed at work performing surgery too on a UK patient.
We very much hope that some of the footage gets used in the movie as it would be awesome and will undoubtedly help educate and inform the masses via the silver screen regarding HT's accurately, once and for all.
Morgan and Spex after a few too many beers last month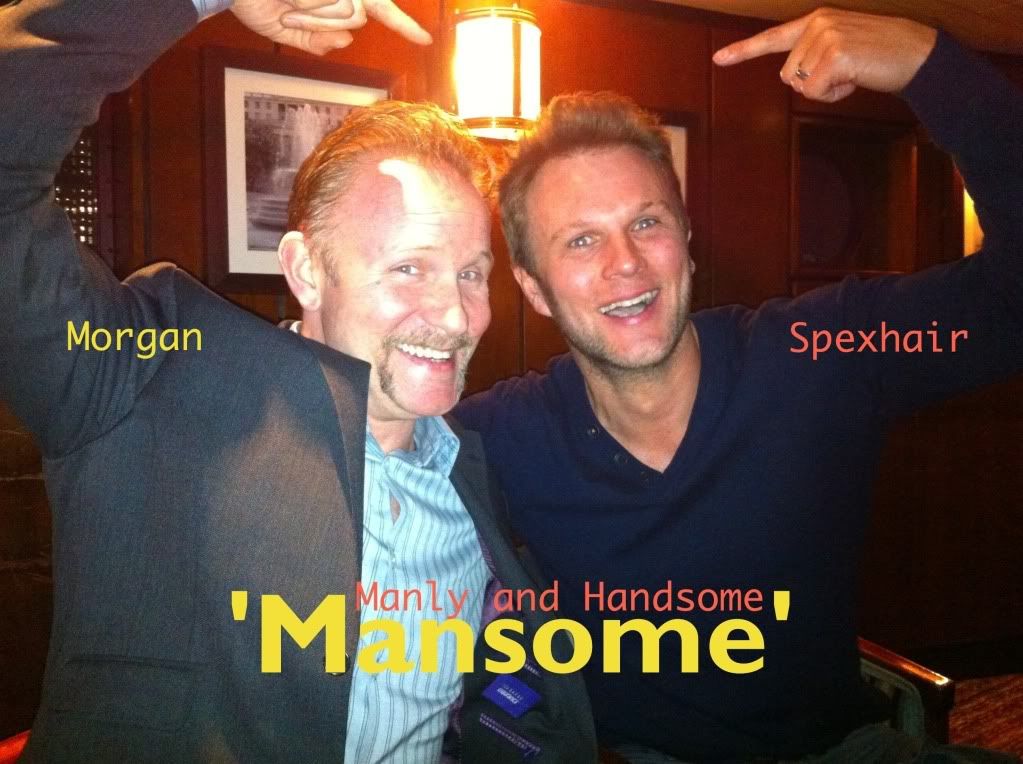 The Mansome movie premiers at The Tribeca Film Festival mid April and Morgan has mentioned if we make the final cut we will get to meet all the stars involved which is really exiting!
Keep you all informed.
Best
SPEX